CONTACTS:
Jeff Clark – J&P Deconstruction Manager
Email: jeff@jpgroup.com.au
Office: Short Street, Picton WA 6229
Mobile: 0439 529 899
Office: +61 (08) 9725 5050
Fax: +61 (08) 9725 6083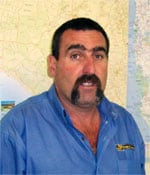 Jeff joined J&P Group in 1998 as a Supervisor of the Mechanical Workshop and part of that role was to raise the standard of maintenance to exceed requirements.
In 2003 Jeff was allocated the role of Operations Manager in order to utilise his diverse knowledge and exceptional safety standards, particularly the positive dissemination of safe work practices including work at heights and extensive knowledge of asbestos management.
Jeff was responsible for the management of the company owned landfill (which entails comprehensive environmental safety knowledge), the logistics and maintenance of the fleet (in excess of 112 heavy machines and light vehicles), the coordination of the exporting of 15,000+ tonnes of scrap metal per annum.
Jeff became the Deconstruction Manager for J&P Deconstruction Pty Ltd in September 2007 to utilise his demolition skills and experience and help the business expand further. In addition, Jeff also assists in counselling, discipline and training of staff in the various aspects of business. Playing an integral part in the Injury Management Program enables J&P Deconstruction to utilise Jeff's inter-personal skills in rehabilitation and safety.
Jeff has successfully completed his Demolition Supervisor 1(Restricted) and Demolition Supervisor 2 (Unrestricted) certificates through TAFE in New South Wales. He has also successfully completed the Asbestos Removal (Friable Asbestos) Certificate.